---
Neary is a dynamic and client focused organisation with a flexible, skilled, highly trained workforce supported by a strong and experienced management team.
Our business is divided into two core areas: Neary Construction providing engineering solutions to the EHV Power Industry and Neary Rail providing solutions to the Rail Industry.
---

The Company continues to maintain its certification to ISO 9001:2008, ISO 14001:2004 and BS OHSAS 18001:2007. Over the past 3 years we have been audited by our certification partner RIQC Limited on a number of occasions and remain committed to the continual improvements of the integrated management, both Civil and Rail Divisions.

Neary Construction recently completed the new UVDB Verify Version 2 Audit and continue to maintain the high standards that we have demonstrated over a number of years.The assessments generate a detailed report of the company's capabilities that are used as an aid to sourcing for the Utilities but also as valuable guidance on improvements the company has made.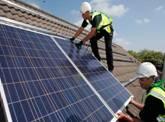 As part of the company's ongoing commitment to the reduction of energy used and thus our impact on the environment, we have taken the step of installing a 13.5kWh Solar Array on the roof of our head office in Manchester.